Hi everyone,
We hope that you are keeping safe and well in these difficult times. With yesterday's news of the school closures extending to 8th March at the earliest, and many of us working from home as lockdown continues (thanks of course going to all the keyworkers too!), life still feels very different and full of challenges. Whilst coronavirus levels thankfully appear to be dropping, and the vaccination becomes more widely available, we realise that we are still a very long way from normal, but continue to do all we can to plan for the coming season and will adapt this as required when we know the guidelines nearer the time. Our sincere thanks go to those who have renewed their memberships at this difficult time and have continued to support the Club – it really is appreciated.
Behind the scenes, since the last Jibsheet, we've had a packed couple of weeks planning for the season, and HSC's development more broadly – more on these below.
Management Update
At our last Management meeting, we covered a lot of ground, with lots happening. Discussions regarding a possible move to CIO are continuing and we will be meeting with Clubs who have been through the process to understand what it would entail. We are planning a social programme for the year, including Horning Week – which we hope to share with you shortly. We also discussed the Club's marketing strategy and how we can let everyone know what we do – and how to get involved. The Committee have come up with some brilliant ideas, but if you have some you'd like to share with us, please get in touch by emailing commodore@horning-sailing.club As part of these discussions, we also decided that HSC would attend the RYA Virtual Dinghy Show (more information below) – and have developed a new promotional film (you can watch this here) and leaflet. We'd encourage you to share these with as many people as you can!
HSC at the Virtual Dinghy Show 2021 – 27th/28th February
For the past 3 years, Horning Sailing Club has manned a stand at the RYA Dinghy Show which, until this year, was held at Alexandra Palace ("Ally Pally") in London. It's been a great opportunity to showcase both the Club and the Three Rivers Race, for which it has been successful in attracting a number of participants. This year, for the very first time, the Show is virtual – and HSC will have a Virtual Stand. Over the coming weeks we will be building our interactive booth, which will give visitors to the stand the opportunity to watch videos, download leaflets, find out information, speak via chat or video call with those manning the stand and more. The Show is free to attend, so we hope to be able to reach a wider audience than ever before. If you would like to help on the Stand (and all information will be provided – all you need is enthusiasm) – even if just for an hour – please email commodore@horning-sailing.club with your availability, and it would be truly appreciated (the Show runs from 10am-5pm both days). If you'd like to attend the Show as a visitor you can register for free here. There's lots of talks and plenty to do, so it really is worth a look.
HSC Archive Film Night
We held another film night on Saturday 23rd January. We'd taken the decision to open this up to the local community and it proved extremely popular with some 29 family groups of members and guests enjoying the evening. It was great to all reminisce together, looking at footage from 1981 (we all had a shock when we realised this was 40 years ago!!) and spot both familiar faces and boats. It was particularly poignant being 1981, as this was John Woodrow's Commodore year, whom we sadly lost last November.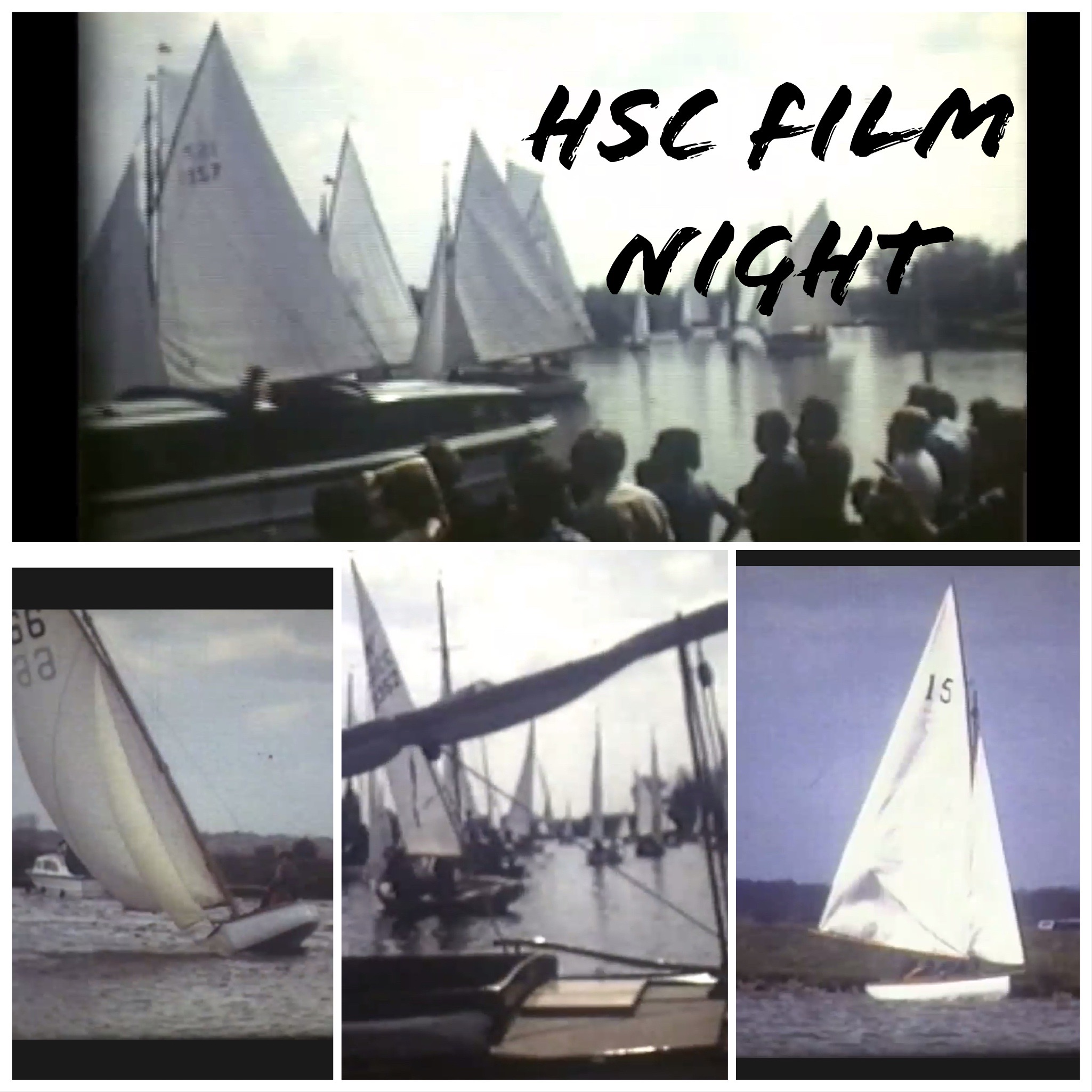 We are planning to hold another evening in February, which once again will be open to the whole community – so please keep a look out for further information on this.
America's Cup
It's been great to be following the progress of the British Team in the America's Cup challenge in Auckland, New Zealand with racing for the Prada Cup. I'm sure that not many of you have been as crazy as my family, watching it at 2/3am UK time, but the highlights have been good too. In the Hancock household, we've been cheering on Ben Ainslie's boat 'Britannia' (Team Ineos UK) with their spectacular comeback and a clean sweep of wins in the Round Robins. It was also heartening yesterday to see the American boat 'Patriot' back on the water after sustaining horrific damage in a capsize, complete with a sticking plaster acknowledging the team's gratitude to the other teams' help in getting them back racing – it's brilliant to see such a display of sportsmanship, truly what sailing is all about. If you haven't checked out the America's Cup racing yet, it's really worth a look – with the foiling monohull yachts reaching speeds of some 45 knots (that's 50+mph!) - the Semi-Final starts tonight, with the Italian Luna Rossa Prada Pirelli Team taking on the New York Yacht Club's American Magic Team. You can find out more here https://www.americascup.com/. The Prada Cup final takes place later in February (when Ben Ainslie's team will take on the winner of the Semi Final) prior to the America's Cup final in March. Have you been watching? If so, let us know who you're cheering on!
eSailing
We are really pleased that Ron Jackson, the winner of our last eSailing series, will be representing HSC at the RYA Regional Finals in February – we will let you all know when this is once the dates have been set so you can cheer Ron on, but for now, we are sure you will join us in wishing him the best of luck for this event!
Flag Officer Drop-In Session
The next Flag Officer Drop-In Session will be on Tuesday 16th February at 8pm. If you'd like to discuss anything privately, please let us know so that we can ensure this happens.
Winter Talks
In our last Jibsheet we mentioned plans for talks over the coming weeks – the first will be an online talk from Kate Fortnum of the Green Blue (the RYA's Environmental Programme) on Thursday 18th February, time tbc. Please save the date, with more information to follow. We are hoping to schedule further events in the future, and if there's anyone you'd like to suggest, or anything you'd particularly like to see – or perhaps you'd like to give a talk yourself (virtually) to members on something you're passionate about (not necessarily just sailing) – please let me know commodore@horning-sailing.club
Keep in touch!
Don't forget that the Club is on social media – with a Facebook page, Twitter page (@HorningSC) and Instagram (@HorningSC). We also have a Facebook Group for the Training Centre – which all members are welcome to join.
Hope to see you all soon,
Holly – commodore@horning-sailing.club
Will – vice-commodore@horning-sailing.club